Uniquely Designed Taps and Solid Carbide Thread Mills Ideal for Threading Tough, Long Chipping Titaniums
Emuge Corp. has introduced a comprehensive line of high-performance tools for threading demanding alloyed Titanium materials. Ranging from taps with unique new geometry designs to solid carbide thread mills, the new program provides solutions for the most demanding titanium challenges such as in aerospace, defense and medical machining applications.
A full line of tap sizes from no. 0 to 1" are available in UNC, UNF and from 3 x 0.5 to 24 x 3.0 in Metric, 222 tools in total.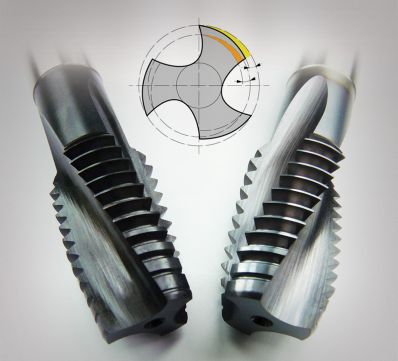 The new Emuge Titanium Program features C-Ti and D-Ti taps with new High Relief Geometry (HRG) technology, which increases space between the friction surfaces for enhanced lubrication and reduced torque load in both forward and reverse direction. HRG counteracts the high compressive forces produced by the extreme elastic memory of Titanium. An optimized flute angle and profile create tough, long chips that evacuate axially in one direction. Taps are manufactured with premium HSS-E steel for exceptional heat and wear resistance, and a modified bottoming chamfer provides reduced torque and increased tool life.
With Advanced Left-Hand Helical Flute Form and chamfer geometry, C-Ti taps optimize chip evacuation in the forward direction and add strength to the cutting teeth for enhanced tool life and process security. The new D-Ti taps are available in STI thread sizes for jet engine components. Both C-Ti and D-Ti taps are available in a special NT2 coating with nitriding that provides increased edge hardness and a steam layer over the nitriding that promotes lubricity to prevent cold welding. Taps are also available with a TiCN multi-layer PVD coating for increased edge hardness and surface lubricity.
The new Titanium Program also offers a variety of thread mills. THREADS-ALL Z-GF style thread mills require only eight stock standard tool sizes to produce 100+ commonly produced screw thread designations. They provide easy machining of difficult materials, one tool for through and blind holes and total control over pitch diameter limits. SHUR-THREAD GFI-IKZ thread mills with internal coolant offer an exceptional balance of performance and price with specially engineered multiple-spiral flutes to eliminate chatter, a large cutter diameter with high profile correction to ensure true-to-gauge threads and an extended milling portion which allows for 2xD length of cut.
For optimal results, Emuge recommends that tools from the Titanium Program run on a CNC machine with a synchronous spindle utilizing a tap holder with minimal compensation, such as Emuge Softsynchro®, which features patented construction separation of the transmission of torque and axial force for the best imaginable tool life and thread surface quality.
Want more information? Click below.
Copyright © 2020 by Nelson Publishing, Inc. All rights reserved. Reproduction Prohibited.
View our terms of use and
privacy policy