How Lean Fixturing Can Help Your Shop Increase Workflow and Reduce Inspection Costs
For its work holding needs, Methods Machine Tools' metrology lab turned to Inspection Arsenal's quick-swap fixture system and the "long overdue" approach reduced time between setups for training and contract inspection.
Methods Machine Tool Sales of Sudbury, MA is the New England distributor of Carl-Zeiss inspection equipment and is the only certified training center in New England. Customers travel to MMTS' state-of-the art lab for specialized inspection equipment training while others send examples of problem parts for help with inspection solutions.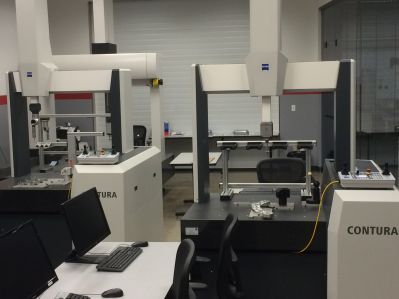 The busy metrology lab turned to Inspection Arsenal™ quick-swap fixture plates and work holding for smoother transitions during automation and engineered turn-key solutions, contract inspection and to expose students to the most modern and LEAN approach to fixturing while freeing up valuable class time.
"We are constantly shuffling between CMM training classes, customer demos and turnkey inspections. The quick-swap features of Loc-N-Load™ and Open-Sight™ Fixture Systems from Inspection Arsenal™ makes moving between these setups quite simple and efficient," said Tom Oakes, Quality Applications Engineer, Zeiss Calypso Support, Methods Machine Tools, Inc.
"For real-world examples in training classes, we set up a variety of sample parts on several Loc-N-Load™ fixture plates. This pallet-style fixture system allows the students to quickly and easily load and unload parts onto the CMM," added Oakes.
At the lab, reference spheres are set up on a dedicated quick-swap plate which automates the stylus re-qualification cutting the time for this step. Reducing the time it takes to build and break-down inspection setups and faster recalibration means more time can be spent teaching about equipment features and programming techniques.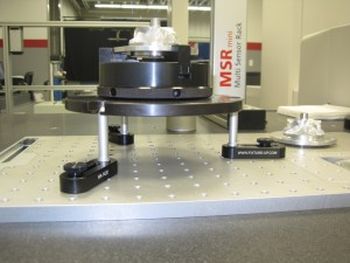 "As a major machine tool dealer, we have to do inspections of turnkey parts during the setup, as well as meeting a customer's quality requirements during the runoff. Having the flexibility to mount a part onto a pallet allows us to run multiple jobs without having to break down setups, or move jobs in and out of machines or to another machine to avoid any scheduling bottlenecks," said Oakes.
Inspection Arsenal™ also has a large compliment of mounting and clamping accessories for the inspection of most parts. However, Oakes sometimes needs something they don't have. Fortunately, their system allows him to use tooling from other manufacturers, so instead of limiting his tooling capability, it actually expands it.
"All in all, this is an idea that makes total sense and is a LEAN approach to inspection that is long overdue," concluded Oakes.
Attending a well-delivered, efficient session means there is greater value to a trainee and their sponsor company. Class size for the Metrology Lab ranges anywhere from 3 to 6 students and the average class length is 4 days. Classes are delivered 20 times each year for an average of 100 customers per year.
Fixtures with sample parts are setup and exchanged without delay. During advanced training multi-part fixtures are designed on a large Loc-N-Load™ plate to teach pallet programming. Training sessions also reinforce probe calibration which is done quickly using a dedicated plate for the qualifying sphere. The dedicated plate locates the same every time, the machine is calibrated and the sphere and plate moved out of the way to free up the entire work surface for inspections. The same process is used for gauge calibration on multi-sensor machines where this task is performed more often.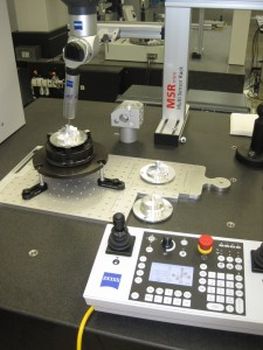 Moving from an instructor in a classroom setting to a contract inspector is also quick and seamless. Classroom fixtures remain intact and swapped out to shift gears. The MMTS metrology lab helps to deliver turnkey solutions and may have several in process simultaneously so quick-swap plates speed this process, as well.
Time-saving benefits extend beyond the classroom. The technique altering fixture concept drastically reduces the time for inspection and helps break workflow bottlenecks. Many student inspectors and engineers apply the LEAN fixture solution at their own companies with great success.
"We were looking for a quick change fixture system for our CMM's and believe that this solution is just that. We are always focused on lean activities and as we expand our use of CMM's on our shop floor, this solution will be instrumental in our having a 'self serve' inspection process," said Harvey Smith, VP Operations, Kennebec Technologies.
Companies focused on LEAN like Senior Aerospace, PDQ, Inc, Jake Brake, and Kennebec Technologies have fundamentally changed their quality inspection techniques. For these and many other companies, the ability to alleviate QC bottlenecks not only reduces inspection costs, the faster workflow reduces the expensive spindle down-time on the shop floor.
Want more information? Click below.