Small Job Shop Installs Robotic Arms and Eliminates the Need for Constant Machine Tending
The addition of Universal Robots' UR5 robot arm has allowed Boog Machining to handle low-weight pick and place tasks while freeing up employees to complete other duties. The robot paid for itself in just one year.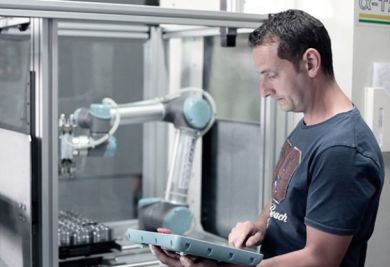 The BOOG Machining Company (France) specializes in short production runs of small milling, turning and machining parts.
In order to increase productivity, they were looking for an automation solution that could quickly and easily be programmed and deployed into various stages of production to perform a wide variety of tasks -- while improving the daily lives of their 15 employees.
BOOG was looking for ways to prevent and reduce work-related health problems because of production tool operation. The company wanted a user-friendly, affordable and re-deployable robot that was viable for small-business environments and applications.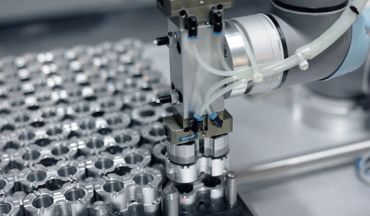 BOOG selected a UR5 robot from Universal Robots due to its ability to handle small parts (weighing less than 5 kg). The UR5 allows BOOG to streamline the production process dramatically and now has an employee load and unload the machine every three hours -- instead of having the machine constantly monitored as before. This frees up valuable resources to add value to other stages in the production by taking on multiple tasks.
It also helps to prevent employee injury as the robot handles small, sharp pieces that can cause accidents when handled improperly. Low-weight collaborative processes, such as: picking, placing and testing are all perfect for the UR5.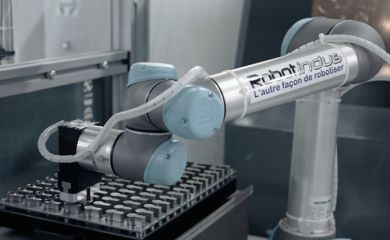 "In a record time of half a day's training, all operators were able to learn how to use the management software and to reprogram the robot. The UR5 robots are really easy to program and to reprogram thanks to their touch screens, intuitive graphic interface and management software," said Raphaël Schwartz, a design and method engineer within BOOG.
Since the installation of the first Universal Robots robot in late 2011, BOOG has not faced problems of production downtime due to human/robot interaction and has added two additional UR5 units to the production chain. The payback period for each robot is only one year.
Want more information? Click below.