New Bluetooth Technology Provides Immediate Information on the Shop Floor
A paradigm shift in technology is making the manufacturing shop floor a whole lot smarter. The Lake Companies has announced a new, patent-pending Bluetooth™ beacon technology that brings indoor positioning and proximity-based information to the shop floor. It means that, for the first time ever, shop floor supervisors and managers now have immediate access to dynamic information from their surroundings.
This new technology is called Beacon-Trak™ and operates as users are in the vicinity of wireless nodes (beacons) located at specific spots on the factory floor. A supervisor need only glance down at their tablet device to see up-to-the-moment information on any given work center in their vicinity.
With the touch of a finger they can assess production rates, output, work crews and more without having to use complicated programs or run back to the office to print out and view reports that may be, in some cases, hours old and not reflective of current work situations. In turn, the proximity-based, contextual information allows manufacturers to quickly make informed decisions about work flow, production and more.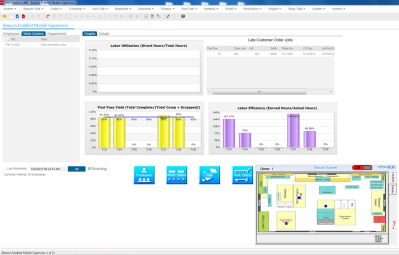 "When you talk about a game-changer for the production floor, this is it," said Greg Lake, CEO and President of The Lake Companies. "We constantly hear from our customers that they are looking for real time information about what's happening on the shop floor while, at the same time, having their supervisors spend more time on the floor instead of combing through stacks of reports and being professional expediters. Beacon-Trak™ will easily allow them to accomplish those goals."
Real-time information provided with the initial release of the application includes:
Jobs being performed and status
Units produced
Personnel information such as who is operating the machine, scheduled time off, dashboards for specific roles on the shop floor and more
Machine operating capacity
Failure rate
Quality history of the machine/individual
Schedule and backlog
Efficiency and utilization
"As we were developing Beacon-Trak™, we realized that the exact same beacons used by production managers could also provide information to individuals in other roles, including maintenance, quality, setup, inventory, costing/accounting, customer service, executives, human resources and more," explained Lake.
"Our roadmap is aggressive. Before we announced our initial product, we were already working on creating additional capabilities for these unique responsibilities." Examples of that information include:
Pending maintenance and maintenance history
Overall equipment effectiveness (OEE)
Parts and tools needed for next job and shift
Materials available for upcoming jobs
Cost and efficiency details while the job is in process
The idea for Beacon-Trak™ came after Lake's development team started researching beacon technology, which was seeing rapid adoption in retail and entertainment industries. The developers saw how beacons communicated with smart phones in the retail industry to inform shoppers of product promotions while they shopped. Unfortunately, beacons did not communicate with Microsoft Windows®, the predominant platform in the manufacturing ERP software industry.
"Our solution to manufacturing was different. First, we needed to solve the communication issue with Windows," explained Lake. "Then we could harness beacon technology to revolutionize the way supervisors manage the shop floor. By providing them the tools to easily leverage real-time, proximity-based information from the shop floor, they are better equipped to use their experience to improve production, throughput and quality, while lowering costs. It just makes sense that Beacon-Trak™ will revolutionize shop floor management and make a direct impact on a company's bottom line."
Want more information? Click below.