"Sump Sucker" Reduces Accumulation of Chips and Bacteria While Increasing Coolant Life
VAC-U-MAX's 55MW industrial sump vacuum cleaner allows operators to quickly empty machine tool sumps, machining beds, oil/water separators, parts washers, rinse tanks and clean up liquid spills.
Included with the complete system, the chip basket and liner separates solid particles from collected liquid at 1 to 2 gallons per second (60-120 GPM); and, with the turn of a lever, this industrial vacuum will pump out the filtered liquid contents of the drum through the discharge hose to a central filtration system for coolant/oils or approved floor drain at up to 14 gallons per minute.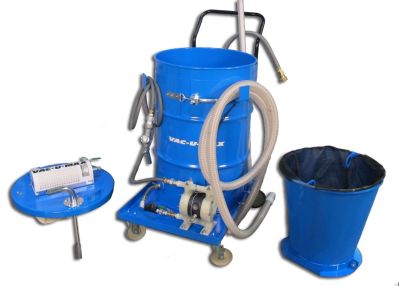 The 55MW, commonly referred to as a sump sucker reduces the amount of accumulation of chips and fines in the sump reducing bacterial and fungal growth keeping workers safer, increases coolant life and extends machine tool filtration systems by cleaning fluids and removing metal chips and swarf. Unlike other sump suckers, the VAC-U-MAX 55MW also works easily with 100 percent dry chips, providing more versatility in machine shops.
The dispensing nozzle on the pump-out hose puts users in control of where and when the fluid comes out, reducing operator exposure to bacteria and dermatitis when emptying machine tool sumps, machining beds, oil/water separators, parts washers, rinse tanks and cleaning up liquid spills. Dual swivel casters makes the 26" wide unit easy to move and its compact size gets close to the machine tools and sumps keeping vacuum hoses as short as possible. Smoothbore hoses prevent accumulation of liquids and chips and slotted holes in the cart base prevent pooling of fluid.
These sump sucker systems are also ideal for larger metalworking jobs, such as high-speed milling of aircraft wings, where fluid must be removed from cavities in order to take precision measurements. The air operated portable industrial sump vacuum cleaner allows operators to return coolant to the machine tool sump, or transport the vacuum to a central sump pump filtration system.
For bigger sump pump system jobs, like under the floor sump pits where sand-like semi-solid material forms when residual particulates and chips settle in the bottom of a sump, a continuous duty industrial sump vacuum cleaner system that facilitate high volume recovery of up to 5 tons per hour reduces the downtime necessary to remove sludge and protects workers from ergonomic issues associated with shoveling masses of sludge.
Want more information? Click below.