New Extended Reach Scanning Probe Ideal for Inspecting Engine Blocks and Heavy Machinery
Renishaw has launched the RSP3-6 extended reach scanning probe for use with the REVO 5-axis measurement system on co-ordinate measuring machines (CMMs). The RSP3-6 probe provides enhanced capability for accessing and inspecting features deep within bores by combining long extensions of up to 800 mm with REVO's 5-axis movements. RSP3-6 is ideal for inspecting large parts, such as engine blocks and components for heavy machinery used in the construction, mining, automotive and defence industries.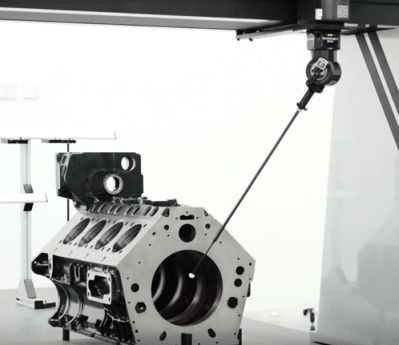 The RSP3-6 system consists of a probe and a range of stylus holders, for applications requiring straight and cranked extensions. The RSP3-6 probe is automatically interchangable with all other probe options available for REVO. This flexibility means that the optimum tool can be selected to inspect a wide range of features, all on one CMM platform. The RSP3-6's straight stylus holders offer extensions up to 800 mm from REVO's A-axis centre of rotation, and its cranked stylus holders offer extensions up to 600 mm from the same reference point.
The probe can be used for both 3D touch-trigger and 2D scanning applications.
Want more information? Click below.
Copyright © 2021 by Nelson Publishing, Inc. All rights reserved. Reproduction Prohibited.
View our terms of use and
privacy policy