Special Pricing on Registration for IMTS 2016
Registration and Visitor Housing for this year's leading industrial manufacturing event, IMTS -- The International Manufacturing Technology Show, is now open.
Manufacturing professionals across the globe will gather at Chicago's McCormick Place, Sept. 12-17, 2016, seeking to explore the latest in manufacturing technologies and innovative manufacturing trends. Registration includes floor access to 1.256 million net square feet of exhibits. This includes five co-located shows, making IMTS 2016 one of the largest in show history.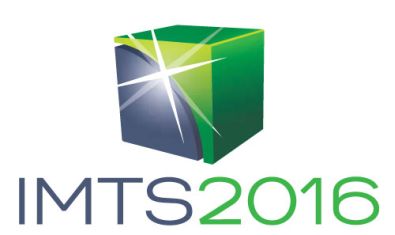 More than 2,000 companies will exhibit, and anticipated registrants will exceed 120,000 buyers and sellers of machine tools, controls, computers, software, components, systems and processes. The five co-located shows, which are organized by Hanover Fairs, USA, include the following: Industrial Automation North America; Motion, Drive & Automation North America; Surface Technology North America; ComVac North America and Industrial Supply North.
Through August 12, individual registration is $45 per person; group registration (five or more) is $30 per person. Beginning August 13, registration increases to $65 for an individual and $45 for each group member. "Discounts for groups are offered to encourage companies to send their manufacturing teams. Company groups gain a broader perspective by gathering ideas from varying viewpoints -- engineers, machinists, managers, executives -- to shape the future of the technology in their factory," says Peter R. Eelman, Vice President, Exhibitions & Communications at AMT -- The Association For Manufacturing Technology, which produces IMTS.
New for 2016, AMT members have complimentary registration through August 12. On August 13 pricing will be $35. International visitors and students have complimentary registration.
Book Hotel Rooms Now
IMTS, in cooperation with Connections Housing (the only housing provider) today opened its reserved housing block to visitors. IMTS specially contracts the lowest room rates during the event, guarantees your room and offers free shuttle service to and from McCormick Place for all hotels within the IMTS Hotel Block.
"Do not wait to book your hotel room," cautions Eelman. "Because of the size and popularity of IMTS, literally every hotel room in Chicago will be occupied. Even months before the show, you may not find a room downtown," says Eelman.
A Must-Attend Event
"IMTS showcases the most current manufacturing solutions while embracing emerging technologies, and there's no substitute for experiencing the event in person," states Eelman, "Spending three days at the show enables visitors to find manufacturing solutions, envision what might be possible, and connect with the leaders in the manufacturing industry. IMTS is a must-attend event."
For more information or to register at advanced pricing, click below.