Unique Cart System Perfect for Dumping Heavy Loads of Metal Chips
CECOR's Heavy-Duty Dumping Carts are equipped standard with trunnion pins for use with CECOR's patented dumping frame. The cart latches securely to the dumping frame, which in turn is secured to a forklift or overhead hook hoist for elevated, rotational dumping.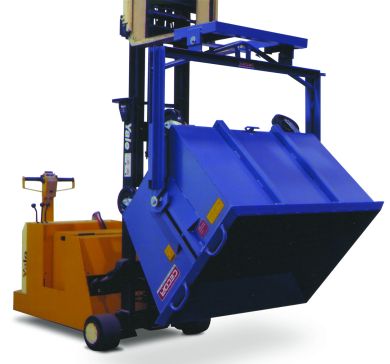 The system is used by many machine shops because of the durability of the carts and ability to dump heavy loads of metal chips.
The trunnion pins adjust to accommodate different loads from light-and-bulky to dense-and-heavy. A spring-loaded trigger on the frame overturns the cart, which can rotate the cart a full 360 degrees (depending on load weight) for thorough emptying. The empty cart returns to an upright position for return to the floor.
CECOR carts are designed to make better use of the cube so they take up less floor space. Carts can hold the same cubic yard of materials as rocker-style hoppers, but are designed to fit in tight spaces. Multiple configurations allow placement under conveyors, machine tools and other plant equipment.
CECOR will exhibit its line of heavy duty carts with dumping frames at Modex 2016 from April 4th to April 7th in Atlanta, GA. CECOR staff will demonstrate how the frame adapts to the cart to dump loads from a forklift or hook hoist.
Want more information? Click below.
Copyright © 2020 by Nelson Publishing, Inc. All rights reserved. Reproduction Prohibited.
View our terms of use and
privacy policy