High-Performance End Mills Ideal for Aerospace and High Hardness Machining
Emuge Corp.has introduced an extensive line of high-performance solid carbide end mills for applications ranging from universal milling to aerospace and high hardness machining.
The end mills, branded Emuge-Franken, are the result of extensive research and development and incorporate the latest in end mill technology, geometry and coatings and are designed to outperform conventional end mill offerings. Emuge-Franken end mills are manufactured in Germany. Franken, as part of the Emuge-Franken company, has been developing and manufacturing milling tools since Emuge's foundation nearly 100 years ago.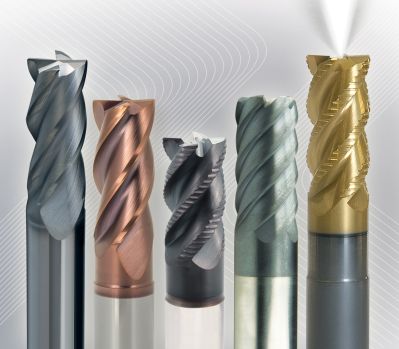 "Emuge is well known for its high quality/performance taps and thread mills, but many people are not aware that Emuge has also been manufacturing high-performance end mills since the company was founded," said Mr. Bob Hellinger, President of Emuge Corp. "We have decided to aggressively launch a comprehensive line of high-performance mills to broaden our North American tool portfolio and meet customers' increased demands for high-performance tools in today's demanding applications."
In addition to the end mills introduction, Emuge will be offering complete grinding/reconditioning services for end mill products as well as other cutting tools, at their West Boylston, MA, USA facility.
The new Emuge US/Canadian solid carbide end mill launch includes the following tool lines:
Top-Cut™ VAR, a versatile, variable helix solid carbide inch end mill program featuring unique geometry and advanced ALCR PVD coating, for universal milling applications in virtually all materials.
Top-Cut™, metric end mills for universal milling applications with variable helix flutes and TiALN PVD coating, ideal for both roughing and finishing operations.
Multi-Cut™, carbide roughing end mills designed with a unique serrated cutting-edge chip-breaker technology for optimum chip evacuation and can achieve metal removal rates 5-10 times that of conventional end mills, in a full range of materials.
TiNOX-Cut™, a coolant-fed roughing end mill for demanding applications such as in exotic materials and Aerospace machining. Tools feature variable flute spacing and a serrated chip-breaker profile for aggressive material removal and a high heat-resistant multi-layer TiN/TiALN coating.
Hard-Cut™ end mills, specially developed for the machining of hardened materials up to 66 HRC.
Approximately 400 standard end mill SKU's will be stocked in Emuge's West Boylston facility in a full range of sizes, inch and metric.
Want more information? Click below.
Copyright © 2020 by Nelson Publishing, Inc. All rights reserved. Reproduction Prohibited.
View our terms of use and
privacy policy