New Laser Welding Systems Serve Unique Applications Including 3D Printing
Miller Electric Mfg. Co. has announced the availability of two new laser welding solutions that provide customizable options to serve unique applications. Miller now offers its PerformArc™ pre-engineered robotic welding systems as laser welding systems, and has a new hotwire power supply available that can be used for welding, cladding and additive manufacturing (3D printing).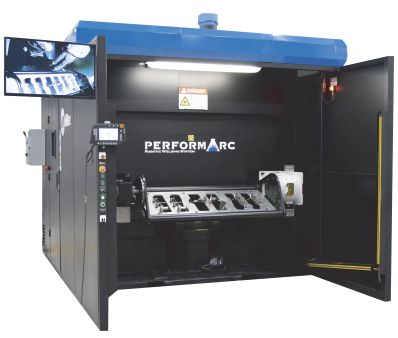 Laser welding offers numerous benefits, including higher processing speeds that are up to 10 times faster than conventional welding processes, lower distortion and less consumable usage. The high-energy density of the laser heats a localized area and produces a small heat affected zone. The process also provides flexibility and expands options for users, enabling welding of new materials and access to joints that are unweldable with traditional processes.
Miller® PerformArc laser welding systems are pre-engineered cells that combine the robot, laser, optics and all accessories into one fully integrated unit -- with all pieces working together as a whole and sharing a single disconnect. A complete, ready-to-run system includes a Class 1 laser enclosure, choice of laser and process head, robot teach pendant and FILTAIR® fume hood. The PerformArc cell is designed for general industry and lower-tier automotive applications.
The new hotwire power supply leverages industry-leading capabilities in wire-feed arc welding processes to bring high performance to laser hybrid welding, cladding and additive manufacturing processes. The power supply allows users to achieve high deposition rates and low dilution. In cladding applications, the hotwire power supply also eliminates wasted material and mess compared to powder cladding processes, and provides higher deposition than powder or cold wire. Designed for higher-tier and OEM automotive applications and additive manufacturing, the power supply can also be used for a variety of oil and gas and overlay jobs.
To ensure the best fit for the application, laser welding solutions from Miller are available using multiple laser source technologies, including fiber-delivered diode, direct diode and fiber laser.
Want more information? Click below.
Copyright © 2020 by Nelson Publishing, Inc. All rights reserved. Reproduction Prohibited.
View our terms of use and
privacy policy