Harvey Adds 2,100 Tools Including New Miniature High-Profile Drills and Corner Radius Finishers for Exotic Alloys
The Harvey Performance Company has released Harvey Tool's new Fall 2017 Product Catalog, featuring, among others, the new Corner Radius Finishers for Exotic Alloys; Deburring Chamfer Cutters -- Double Ended; Tip Radius Engravers -- Double Ended; Tipped Off Engravers -- Double Ended; High Performance Drills -- Flat Bottom; Metric Single Form Thread Mills; and Metric Long Flute Thread Mills.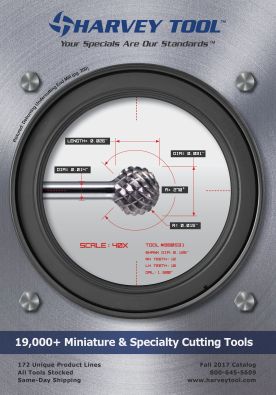 Additionally, square and ball profile miniature end mills are now stocked in 3-flute options, and Miniature Reamers are stocked uncoated.
In total, more than 2,100 new tools were added to this edition of Harvey Tool's biannual catalog, adding to a repertoire of stocked tooling that now exceeds 19,000 options.
2017 Fall Catalog Unique Tooling Options
Variable Helix End Mills for Exotic Alloys -- Finishers, Corner Radius
Finishers are optimized for titanium alloys, inconel, nickel alloys, and other high-temperature materials with outstanding performance in difficult-to-machine steels, stainless steels, and tool steels.
Miniature High Performance Drills -- Flat Bottom
Harvey's new Miniature High-Profile Drills feature a flat bottom profile for drilling on inclined and rounded surfaces, creating flat bottom holes, tilted drilling for angled holes, and drilling intersecting holes, half holes, shoulders, or thin plates.
"We're introducing more tooling options with this catalog than with any catalog prior," said Jerry Gleisner, Harvey Performance Company Senior Vice President of Sales. "We continue to prove, with each biannual catalog, that we're dedicated to exceeding machinists' expectations, having the tooling options stocked that they long have had to specially quote. We're so excited to share this edition with our customers."
Want more information? Click below.