New Coating on Carbide Drills Increases Tool Life Up to 40%
Since its introduction, the WDO-SUS has been the flagship of the OSG drilling tools. With a new coating and the new name ADO-SUS, it is now starting its second career.
Thanks to their special, trapezoidal cooling channels, the further-developed carbide drills are reportedly still setting standards in terms of flow rates and targeted coolant supply.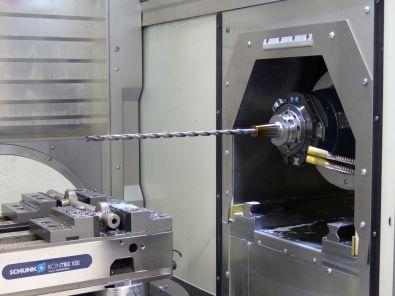 Tools with WD1 coatings had multilayer coatings up to now, but it has now been possible to add many more layers with the new Egi-As coating while retaining the same 3 Ám layer thickness.
As a result, a measurably higher degree of wear resistance is claimed. Initial tests of prototype tools in Japan have reportedly shown that tool life increased between 20 and 40 percent with identical geometry.
Customary high cutting speeds, feed rates and long service lives have been maintained by the new AD/ADO tools since the drilling process is no longer controlled by the cutting parameters, but by the cutting geometry of the drill. This means that a short chip can be obtained and evacuated via the coolant, even with low or high cutting data.
Want more information? Click below.
Copyright © 2021 by Nelson Publishing, Inc. All rights reserved. Reproduction Prohibited.
View our terms of use and
privacy policy