New Vise Designed for Smaller Workholding
Designed to achieve new levels in workholding strength and performance where flatness and parallelism are critical, Kurt's newly launched DX4™ CrossOver® vise answers machinists' needs for smaller workholding.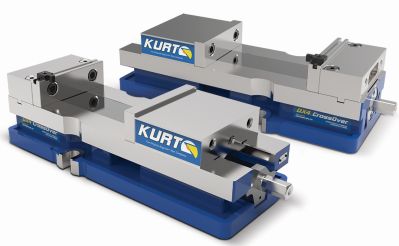 Kurt's DX4™ is designed for the precision requirements of CNC production to tool room applications and replaces Kurt's D40 vise with new and enhanced features. The DX4™ has a larger jaw opening (6.5 inches vs. 3.75 inches) but with the same bed height and distance from keyway to stationary jaw as the D40 vise. Available in a manual model, plus manual reverse model for easier part programming in Y axis positive direction.
The DX4™ CrossOver® vise is a combination of AngLock® and Pull-Type designs from Kurt's D-series and 3400V vises, and 2 top bolt FEA designed stationary jaw. These combined features result in an ultra-unique design strategy for a better vise including:
AngLock® design for all-directional clamping alignment and downward force reducing jaw deflection
Pull-type design reducing stress in the body while maintaining flatness after assembly
2-bolt stationary jaw design that reduces jaw deflection
With enlarged jaw holding capacity, the DX4™ CrossOver® vise features a full 6.5-inch jaw opening within the inside jaw position. A lighter and narrower vise body with a footprint of 4.962" wide x 12.50" long allows more vises on the machine table. The vise body also provides chip evacuation straight through the body at sides and end of the vise to prevent chip build-up.
Want more information? Click below.
Copyright © 2020 by Nelson Publishing, Inc. All rights reserved. Reproduction Prohibited.
View our terms of use and
privacy policy