Watch How Motorcycle Shop Rode Machine-Tending Robots to 400% Production Increase
Rekluse, in conjunction with its spin-off company, VersaBuilt, has developed a universal robotic machine tending solution that works with any CNC machine, is affordable for the average machine shop, reduces costs by 50 percent, and has been real-world tested while machining aftermarket clutches for motorcycles.
At the age of eight Al Youngwerth's parents bought him his first dirt bike, a memory that has loomed large over his entire life. To hear Youngwerth recall it, that moment of revelation led to a passion for motorsports that has endured over the decades -- so much so that in 2002 he formed an aftermarket motorcycle clutch company with a vision for changing and improving the way people rode motorcycles.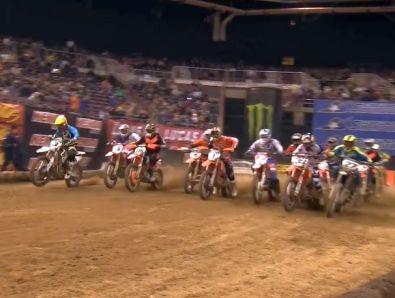 Rekluse manufactures aftermarket clutches for dirt bikes. Owner Al Youngwerth believes they have changed the way motorcyclists ride a motorcycle.
Over time Rekluse has grown from a garage operation into a full-fledged machine shop, learning the art of CNC manufacturing along the way. The ultimate proof of Rekluse's success is in the numerous world and national championship titles in multiple racing disciplines that professional riders have won using Rekluse products.
As Rekluse grew, they needed to find a way to do it without the operational costs of CNC machining forcing them to outsource to other countries, so they came up with an in-house robotic solution.
Realizing that their standardized universal machine tending solution was applicable to almost every high-mix, low volume machine shop on the planet, Youngwerth has now started a spin-off company, VersaBuilt, and given the product a name: the VBX-160.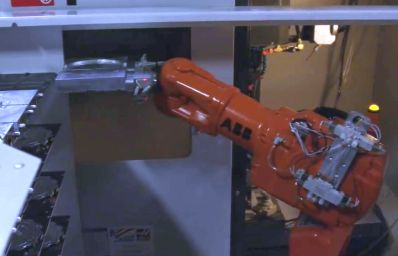 The Boise, Idaho shop has now installed eight systems featuring robots from ABB Robotics.
The VBX-160 is capable of producing parts 24 hours a day without increasing staffing levels. The universal robotic machine tending equipment can be loaded with a variety of parts and then run for hours. This leads to a 200-400 percent increase in production capacity and a 60-90 percent reduction in labor costs per part produced.
The machine operators are less stressed, and without stressed workers handling the parts, scrap rates decreased significantly and on-time delivery rates went up. Altogether the robotic machine tending solution that was developed in the Rekluse shop reduced their total cost of production by about 50 percent -- an amazing improvement over purely manual production.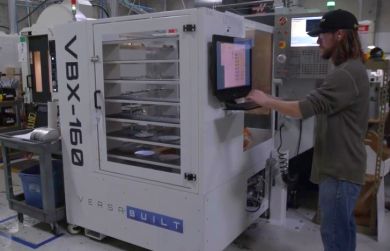 The owners of Rekluse started a spin-off company named VersaBuilt. The new company incorporates machine tending equipment -- the VBX-160 -- into the overall operation.
"My vision for Rekluse thirteen years ago was to change the way people rode motorcycles," says Youngwerth. "I think we still have a long way to go, but for a lot of motorcyclists we really have changed the way they ride a motorcycle. I would say the vision for VersaBuilt is largely the same. My hope is that in five years' time we will have made a substantial impact on how CNC manufacturing is done in the United States and, ultimately, around the world."
Watch the Rekluse/VersaBuilt story.
Want more information on robotics? Click below.