Sneak Peek of Siemens' MindSphere Now Available on Microsoft Azure
A preview of Siemens' MindSphere, the company's cloud-based, open Internet of Things (IoT) operating system, is now available on Microsoft Azure.
Joining the MindSphere solution family through the Microsoft Azure cloud platform provides the ability for joint customers and partners to begin developing and implementing Industrial IoT solutions very quickly, thereby helping accelerate their ability to derive value and create innovative solutions.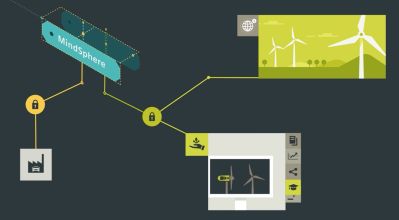 "We've listened to our customers' demand for bringing the Industrial IoT capabilities of MindSphere to the Microsoft Azure environment," said Steve Bashada, executive vice president of Siemens Cloud Application Services. "Thanks to our collaboration with Microsoft, our joint customers and partners can now begin developing and testing MindSphere applications on the Azure cloud and leverage Siemens' proven industry experience."
"Building Industrial IoT solutions is complex and customers are craving simplicity," said Sam George, partner director IoT at Microsoft. "Joining forces with Siemens to host Mindsphere on Azure, after working together on industrial solutions for over two decades, will empower our customers to draw on Siemens' industrial expertise and Microsoft's scalable cloud services to further simplify and take advantage of global Azure IoT and other cloud services. With edge computing becoming even more pervasive, there is also a tremendous opportunity for Microsoft's global partner ecosystem to extend the power of Mindsphere through all our Azure cloud platform services, including IoT Edge to connect new or existing devices, systems or equipment."
MindSphere delivers a wide range of device and enterprise application connectivity protocol options, industry applications and advanced analytics. It provides an innovative development environment that utilizes both Siemens' open Platform-as-a-Service (PaaS) capabilities, combined with integrated native IoT cloud services on Microsoft's Azure platform. Through these capabilities, MindSphere can connect assets to Microsoft's intelligent cloud services to enable industry applications to operate with intermittent connectivity, provide local feedback loops, cognitive services, edge analytics and artificial intelligence on the edge.
The preview of MindSphere for Microsoft Azure became available for select customers and partners in April, and will follow a continuous development and deployment model. MindSphere for Microsoft Azure is planned to be generally available in the 4th quarter of 2018.
Want more information? Click below.