Drill's New Geometry and Coating Allow Shops to Run Machine Tools at Full Potential
With the new Seco Feedmax -- P drill, manufacturers gain the potential to significantly boost holemaking performance beyond that of current drilling technology for ISO P (steel), as well as cast-iron workpiece materials.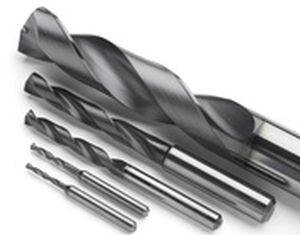 The solid-carbide Feedmax -- P drills can increase drilling productivity by up to 35 percent while also providing longer tool life due to the combination of the drill's new geometry and advanced coating.
The Feedmax -- P's new geometry and dark-colored TiAlN coating enhance chip management and deliver high application security, allowing shops to generate more holes faster and with less required drills.
In addition to strong straight cutting edges, the drill's coolant holes are in close proximity to the cutting edges for more efficient cooling, and its narrow land margins minimize the heat exposed to the drill. An enhanced flute design protects drill point corners and maximizes the control and evacuation of chips.
With its new coating, the Feedmax -- P lets shops run machine tools to their full drilling potentials. Together with the drill's strong point geometry, cutting speeds of 623 feet/min are possible in SMG P5 without sacrificing tool life.
Seco offers the Feedmax -- P in diameters ranging from .078" to .787" (2 mm to 20 mm) and in length-to-diameter ratios of 3xD, 5xD and 7xD. All drills come standard with through-the-tool coolant channels to ensure maximum performance. Custom versions such as intermediate sizes and chamfer and step drills are available upon request.
Want more information? Click below.
Copyright © 2020 by Nelson Publishing, Inc. All rights reserved. Reproduction Prohibited.
View our terms of use and
privacy policy