Producing Cutting Tools with Quality Edges Can Be a Balancing Act
Fullerton Tool Company recently added a balancing machine to their operation and they have seen a significant improvement in the surface finish of their cutting tools. "The chips and flakes are gone."
For over 70 years, Fullerton Tool Company has manufactured high performance solid carbide cutting tools from Saginaw, Michigan. They serve a vast variety of industries, including aerospace, automotive, firearms, heavy equipment and medical, just to name a few.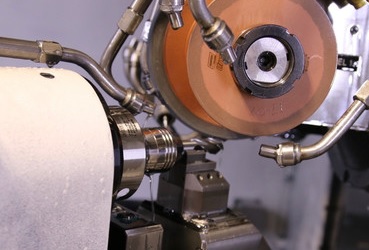 With the Tool Dynamic balancing machine series, HAIMER offers a comprehensive solution for the balancing of tool holders, grinding wheels and big rotors with diameters up to 800 mm.
In this incredibly competitive industry, delivering cutting tools with a quality edge to the end user is priority number one. That's why Fullerton Tool continually searches for new ways to improve their manufacturing processes as well as the cutting tools they manufacture. This quest for quality is what led them to HAIMER and the advantages that balancing brings to their grinding operations.
Things Were Getting Bumpy
At a micron-level, Fullerton was having trouble controlling flaking and chipping on the cutting edge of the tools they were producing. Grinding wheels were being dressed continually in an attempt to control the issue, with limited success. This process was time consuming and not really solving the problem as edge quality continued to suffer.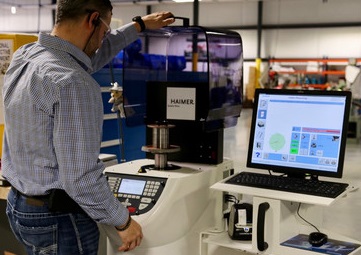 Haimer's Tool Dynamic TD Comfort machine is equipped with a PC, keyboard, mouse and monitor. The big screen enables a fast input of tool data and all the comfort of a graphical user interface.
While exploring options, the name of HAIMER kept coming into the conversation. Finally, a HAIMER representative paid a visit and pointed out that wheel packs are complex units that while perfectly dressed for roundness, could still be out of balance. This can cause excessive vibration that affects grinding performance and wheel life. He explained the benefits of balancing wheel pack assemblies, which include:
Improved surface finish on carbide tools
Longer wheel life
Reduced power consumption/load for longer spindle life
Ability to run faster feeds/speeds for increased productivity
Instant Gratification
Fullerton installed a Haimer TD 2009 Comfort balancing machine in their main plant for use with their Rollomatic machines, and to say the difference was dramatic would be an understatement.
"We immediately saw a clear, visible improvement in the surface finish of our cutting tools," said Jason Schafsnitz, Fullerton's Production Manager. "The chips and flakes were gone and we also saw a dramatic reduction in fluting time."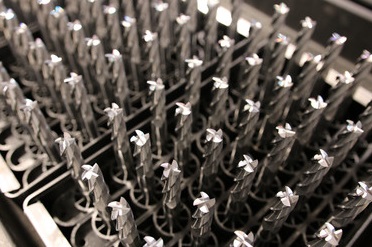 Rejections have decreased and surface finish has improved since Fullerton Tool Company began using Haimer's balancing machine.
Operators, who were hesitant at first, not only saw the improved quality of edges and fluting, but noticed that they were spending less time dressing the grinding wheels due to less (and more concentric) wear. Packs that were often dressed up to three times were now only being dressed once in the same timeframe. Soon, even the most skeptical of operators were lining up their wheel packs to be balanced after every wheel dressing.
Just the Beginning
The results are such an improvement, and demand is so great, that even without the formal ROI calculations completed yet, the company plans to invest in another unit for their eastern plant to use with their Walter machines.
"We are using the balancing machine more and more," Schafsnitz said. "We were even shuttling wheel packs from our eastern plant for balancing. It's just an obvious good business decision to add another machine in that location."
Whether using the setscrews on the Rollomatic or the counter-weight system on the wheel arbor of the Walter, Fullerton found that balancing was fast and easy. Cycle times and rejections have decreased, wheel life has increased, surface finish has improved and most importantly, Fullerton customers are getting an even higher quality edge on their cutting tools.
Want more information? Click below.