German Shop Run by Three Brothers and One Philosophy: "Performance is Not a Matter of Chance"
HETEC, a family-owned precision machine shop in Germany, has teamed with machine builder Hermle to set up an operation where they can switch between workpieces in just 15 minutes while achieving spindle running times of 400 hours per month.
Together with his two brothers, Friedhelm Herhaus founded HETEC GmbH in 2000. In rapid succession, the company invested in CAD/CAM systems (3-axis) and, in 2002, in the first five-axis machining center as well as the associated data processing and organizational environment.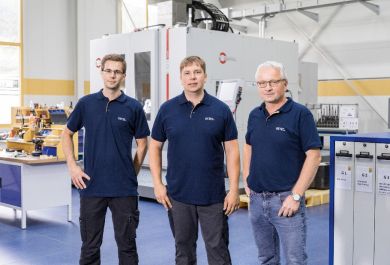 Friedhelm Herhaus, Managing Director, Christoph Schneider, Group Leader Milling Technology, and Tom Herhaus, Applications Engineering/Operator, all from machining service provider HETEC GmbH.
In 2003, a new factory focusing on large part machining was built at the present company headquarters in Breidenbach, Germany. Each shouldering executive responsibility for specific business areas, the three brothers systematically invested in more CAD/CAM systems, CNC machine tools, workflow optimization and remote monitoring of processes. This put them into a position to provide their growing customer base with state-of-the-art manufacturing technology for highly demanding, complex tool and mold construction components as well as large scale basic tools.
In order to meet the ever-increasing customer requirements with sustainable reliability, HETEC added more five-axis machining centers from Hermle AG in 2009.This began with a C40 machining center that was followed by a C 30 U and -- as soon as they became available -- the first large machines of the C 60 U and C 50 U series. In the course of time, a C 400 U was purchased for machining smaller items, and more recently was joined by another large machine, a C 52 U.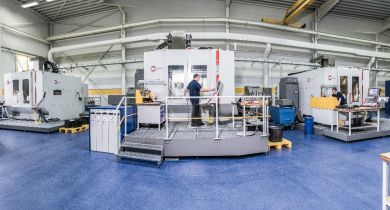 Hermle's 5-axis machining centers in the air-conditioned factory building of machining service provider HETEC in Breidenbach, Germany.
Friedhelm Herhaus has this to say about the cooperation with Hermle AG: "We have always received very good and fair advice from Hermle and we were and still are delighted with the 5-axis concept, with the performance, the very high degree of precision, the accessibility, the excellent and fast service as well as the very good support in all phases of a project."
As a practical and graphic illustration of this, he pointed out that to date the C 40 U machining center purchased in 2009 has already clocked over 30000 spindle running hours -- and it is still using the original spindle. Not to mention the fact that the precision values recorded in a measurement log from 2016 simply repeated those that had been recorded seven years previously.
It is worth mentioning that, despite the broad range of applications in the areas of full processing and finishing work, the Hermle machining centers are "only" equipped with the standard tool magazines. The plausible reason for this is that HETEC has developed its own tool/magazine management system that allows all the milling machines and machining centers (each of which has the same HSK-A63 tool holding fixture, by the way) to be tooled according to the order and the work to be done.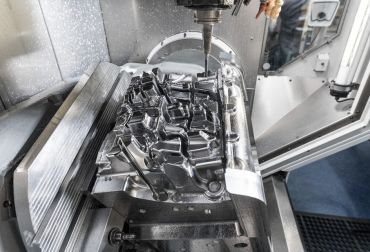 The machining area of C 52 U with the large swivelling rotary table for load capacities up to 2,000 kg; equipped here with a large-dimension basic tool finish, machined with 5 axes.
Altogether, this involves around 2000 "sharp" tools, each provided with a chip, including around 250 different milling tools and around 300 for drilling and thread cutting. This means that the tools can be changed "blind", i.e. deployed as required and with drastically reduced changing and equipping times.
With the purchase of the new C 52 U five-axis machining center, HETEC went another step further by ordering the HIMS (Hermle Information Monitoring Software) base package for the first time. HIMS provides a display of the life status and transmission of the information by email as required. This fits perfectly to HETEC's manufacturing and (remote) monitoring strategy: single-shift normal operation and otherwise (monitored) automatic operation.
With a working range of X = 1000, Y = 1100, Z = 750 mm and the 700 mm swivelling rotary table with a load-bearing capacity of 2000 kg, the C 52 U machining center is ideally suited to full/finishing machining of extremely intricate tool and mold components or base plates.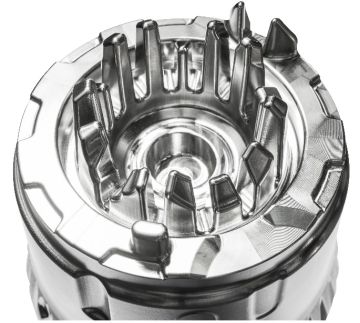 Fully machined mold insert with closely arranged and deep cavities.
Friedhelm Herhaus offered additional praise regarding the teamwork with Hermle: "Despite their increasing complexity, the Hermle machining centers can be set up very simply, commissioned quickly and they are operator friendly. The good accessibility also enables us to carry out a full redeployment on the large machines from one workpiece to the next within 15 minutes. This means that even without further automation, we achieve spindle running times of 400 hours per month and machine as a single-part manufacturer."
Herhaus continued, "Another example of Hermle's performance capabilities can be seen in the C 52 U five-axis machining center project, which we needed very quickly to satisfy urgent customer requirements. We received our order on condition that capacity for 8 x 140 hours of manufacturing performance should be available on schedule. With Hermle's help, we managed to set up and commission the C 52 U in a short space of time, and to meet the availability requirements not just temporarily, but in the long term as well."
Want more information? Click below.