Tips to Prevent Combustible Dust Explosions
The potential for a combustible dust explosion is a reality in many industrial manufacturing operations -- especially within a dust collection system. That's why Camfil APC offers a range of consulting and technical services to help keep operations in compliance and employees safe.
NFPA Consultation
Camfil APC experts can help operators be sure that their dust collection system complies with National Fire Protection Association (NFPA) standards by including hazard analysis, risk assessment, and fire and explosion control prevention design criteria.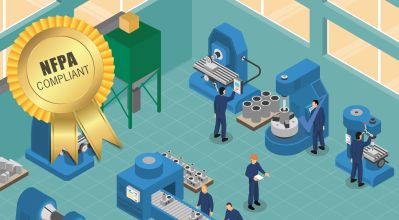 This includes specifying the correct, NFPA-compliant explosion protection technology for the dust collector that will minimize the risk of personnel injury and damage to equipment and the facility.
Lab Testing
Camfil APC experts can assist with the two necessary types of dust testing to help operators understand the characteristics of the material they are dealing with, so that they can make informed decisions on equipment, filter cartridges and engineered controls to mitigate explosive dust hazards.
Camfil APC provides in-house lab testing, which pinpoints physical properties of the dust that affect equipment efficiency and performance. They then work with experienced consultants that conduct explosibility testing, which determines combustible and explosive properties of the dust.
Explosion Mitigation Equipment
Camfil APC experts analyze specific operating conditions to determine the best equipment to mitigate dust collector explosions, including explosion vents and integrated safety monitoring filter systems.
Want more information? Click below.
Copyright © 2020 by Nelson Publishing, Inc. All rights reserved. Reproduction Prohibited.
View our terms of use and
privacy policy