"Eco"-nomical Conveyor Perfect Entry-Level Filtration System for Shops
Jorgensen's EcoFilter® Conveyor is a competitively priced conveyor and filtration system for entry level and mid-priced turning and machining centers. It works for larger, higher-priced machines as well.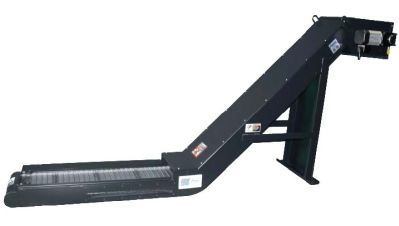 The EcoFilter® utilizes an innovative two stage metal chip removal and coolant filtration design. Primary large chip removal is done with a hinged steel belt conveyor and in a secondary process, fines are separated from the coolant via flow through a filtration cell.
Jorgensen's patent-pending, self-cleaning design, brushes wipe these fines from the surface of the filter cell where they can then flow to the bottom of the conveyor. The conveyor belt cleats on the bottom run of belt then scrape the separated fine chips back to the top of the belt for discharge.
Other features include:
Less chip migration to the coolant tank means less tank cleanout and production downtime.
Pump, tooling and coolant life is greatly improved.
No consumables provide an environmentally friendly cost-effective system.
Single drive design provides reduced energy consumption.
The EcoFilter® Conveyor has been well-received by Jorgensen's customers.
One customer uses a Vertical Machining Center to do high-volume machining of aluminum parts. They had a serious chip migration problem where a high majority of the chips would migrate to the coolant supply tank. Tank baskets and screens needed cleaning multiple times a day and weekly machine shut downs were necessary to clean out the coolant tank which was virtually filled with chips. Machine supply pumps were fouling and failing due to chip migration into the pump inlets. Filters had to be put on the inlets which, when blinded off, caused the pumps to cavitate, leading to coolant foaming. The system would often back up and coolant would flood the shop floor.
Now, with Jorgensen's EcoFilter® Conveyor in place, the customer has enjoyed uninterrupted 24hr/5 days per week production. The filter cell built into the conveyor has stopped the fines from getting into the tank and the coolant is no longer foaming up. The customer stated, "This new EcoFilter® Conveyor has by far exceeded my expectations. The most problematic machine tool in our shop is now the most hassle free!"
Want more information? Click below.
Copyright © 2020 by Nelson Publishing, Inc. All rights reserved. Reproduction Prohibited.
View our terms of use and
privacy policy