High-Speed, Ultra-Rigid HMC Features 35% Smaller Footprint -- Only 90" Wide
The new SH-5000P Horizontal Machining Center from Tongtai was developed for mass production line formation. At only 90" wide, the new compact machine has a 35 percent smaller footprint than the previous model, allowing for maximum shop floor space utilization.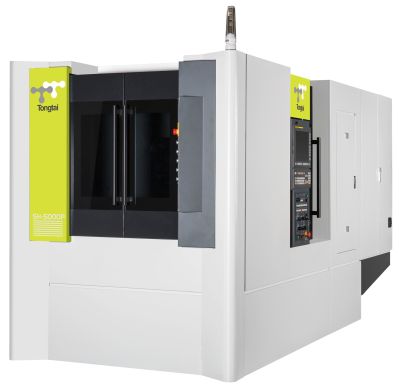 The machine is a XY traveling column type design where the pallet moves in Z. The APC unit, located in front of the machine, provides easy access and slashes idle time. The APC is a rotary type pallet changer and it exchanges the pallets in only 7 seconds. For pallet rotation in the machining envelope, a full contouring "B" axis precisely indexes the pallet every .001 degree and a hydraulic clamping mechanism is used to clamp the pallet in place for excellent repeatability. The B axis is high speed, with 90-degree index time of 0.76 seconds.
The SH-5000P features an ultra-rigid Meehanite cast iron frame with an advanced 3 point leveling system. The Eco-friendly LHL / LubeUSA grease lubrication system is standard for ways and ballscrews -- no coolant contamination and no waste oil. The 40mm (1.57") diameter ballscrews are class 3 with a double nut pre-loaded and pre-tensioned design allowing a blazing rapid traverse rate of 2362 inches per minute.
Furthermore, high-speed acceleration drastically reduces non-cut time (X,Y,Z acc/dec of up to 1.0G). The ABS (Absolute Pulse Coder) servo system does not require zero return. The machine can be started anytime from any position, saving non-productive time. A standard rear discharge chip removal system includes a center trough design with high volume chip wash for efficient chip removal. A combination dual level caterpillar type conveyor with fines separator is standard and is suitable for virtually any types of chips/material.
At the heart of the machine is a high power integral spindle with 15,000 RPM and spindle acceleration from 0-7000 in just 0.48 seconds and 0-15000 in only 1.9 seconds. Deceleration from 12000 RPM to stop is only .8 seconds.
To enhance milling capabilities, a Big Plus dual contact spindle is standard. Air/oil mist is used for spindle bearing lubrication to increase spindle life. The standard 60-station automatic tool changer provides ultra-fast tool selection. Tool change time is only 1.4 seconds tool to tool due to the use of the patented Sankyo RollerDrive™ gearbox for the arm mechanism. Average chip to chip time is only 3.0 seconds. The ATC system is a random style system.
Want more information? Click below.
Tongtai/Absolute Machine Tools
Copyright © 2020 by Nelson Publishing, Inc. All rights reserved. Reproduction Prohibited.
View our terms of use and
privacy policy