World's Most Precise Docking Station for Mobile Industrial Robots
Real efficiency in logistics automation is achieved when the entire workflow includes precise product delivery between all stations. This is the vision behind ROEQ's new Docking Station Precision that can be mounted to either floors, walls, or machinery. The solution works in tandem with ROEQ's cart solution C300 for Mobile Industrial Robots (MiR), enabling secure and precise locking of the cart upon delivery at the docking station.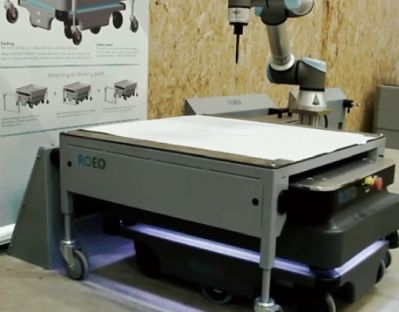 "Docking Station Precision leverages the MiR robot's superior repeatability, ensuring that when the robot arrives with the cart, the load carried by the cart is delivered and locked with unrivaled precision," says Peder Grejsen, technical sales manager for ROEQ. "This means no interruption of the workflow due to misaligned products or pallets between stations. In a packaging cell, for example, where we increasingly see robots handling products, it is imperative that the product delivery happens exactly where the robot is instructed to pick up the part."
By using the ROEQ C300 cart solution, the MiR robot can collect loaded carts, deliver it to the designated docking station and leave the carts there to be emptied or prepared for the next mission. This solution ensures that the MiR robot is only stationary for a short amount of time, effectively streamlining the workflow between different divisions of the facility.
MiR founder and CSO, Niels Jul Jacobsen, emphasizes the synergy generated by the ROEQ product offerings and the MiR robots. "Using a product such as ROEQ's docking station enables our robots to dock with five times greater precision," he says. "Capabilities like these add tremendous value to our customers seeking to automate internal logistics tasks that require extreme precision when loading and unloading materials."
Want more information? Click here.
Copyright © 2023 by Nelson Publishing, Inc. All rights reserved. Reproduction Prohibited.
View our terms of use and
privacy policy