Suhner's Power Tools Help California Shop Earn its Reputation -- "Where Quality is King"
The Fullerton, California shop, Royal Welding, uses Suhner power tools and abrasives because they hold tight tolerances and they help the workflow. And they've also helped the shop earn its reputation for high-quality fabrications in service to wide variety of industries.
Royal Welding & Fabricating (Fullerton, California) prides itself on two basic tenets. As General Manager Wallace Cook explains, "We specialize in stainless steel and aluminum welding, often with mirror finish, plus we can offer complete turnkey operation for the highly challenging jobs, with design, engineering, most component production, all assembly, welding, grinding, fine finish and full testing capability, all in-house. That means customers can bring their jobs to us with complete confidence and know they'll get quick response, should any changes be required."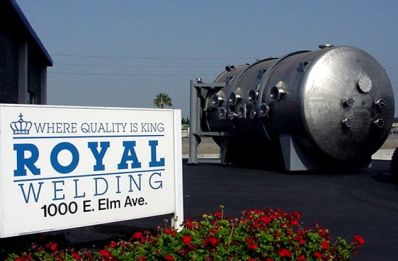 Royal Welding has a nationwide reputation as a fully integrated, high-quality fabricator of pressure vessels, containment vessels, vacuum chambers, high-pressure tanks, storage tanks, reactors and other products, most being custom designs for application-specific uses.
Cook also takes pride in having originated the company's slogan, "Where Quality is King."
In business over 50 years, the Los Angeles-area shop produces a wide assortment of tanks, mixers, chambers and extractors for myriad industrial, medical and commercial uses. All the welders are ASME Certified and Royal conforms to all necessary standards for the aerospace, nuclear and other high-precision markets.
Royal produces units to withstand extreme pressures, high vacuum processing and high and low temperatures for hazardous chemical extraction processing, providing customers with often unique, application-specific designs.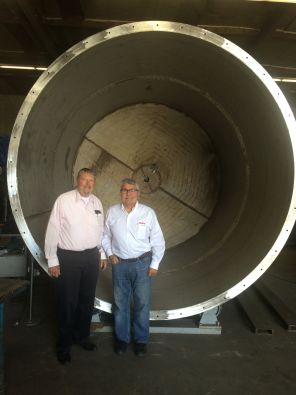 Wallace Cook, general manager at Royal Welding, and Gary Mergeanian, regional sales manager for Suhner, in front of a typical containment vessel fabricated at Royal, using Suhner tools and abrasives to finish the job.
The company's dimpled plate designs, for example, are renowned for their superior heat dissipation and cost savings, as an alternative to partial or full metal jacket heat exchangers.
Royal also fabricates a variety of custom tube & shell heat exchangers, centrifugal pump vessels, agitators, autoclaves, hydroclaves, high-volume cooking kettles, high-pressure tanks for reverse osmosis, extreme environment vessels and vacuum chambers to all applicable ASME, TEMA and 3A standards. Some of the units produced there are in use for water conditioning on the space station.
The Royal customer list reads like a who's who of American industry, ranging from aerospace to the oil/gas and chemical industries, plus government concerns. The shop is becoming a leading supplier to emerging markets on the West Coast, including craft beers and even cannabis farming, for which Royal produces high-precision CO2 extractors.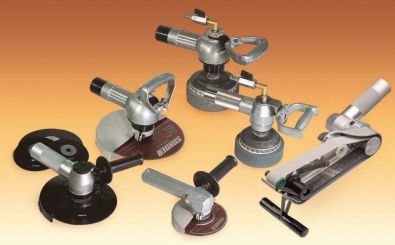 Various Suhner abrasive products used for tank fabrication, as well as the flex shaft assemblies, which minimize the weight load for the operator by keeping the motor and drive mechanism remote from the work area.
The company's Director of Engineering is Brad Card, who maintains a full library of every unique success achieved by Royal. He notes, "We've done everything from fusion reactors for particle acceleration to cleaning reactors for laundering (the legal kind) money, gel reactors for vitamin supplements, paint formulation tanks, vacuum chambers for paralyne coatings, environmental chambers for silicon wafer tests, vessels for dark matter research and fuel tanks for rocket launch vehicles."
All work at the shop begins in the design department, where the latest CAD technology produces designs for the various machine shop operations located in-house at Royal. These include metal bending, conventional chip-cutting machine tool work, forming and fabrication, final assembly and performance testing plus a key area -- the grinding and finishing department.
Every weld and surface finishing job at Royal is done to the highest quality specifications and the abrasives used must match the materials, job requirements and appearance standards set by the customer and by Royal.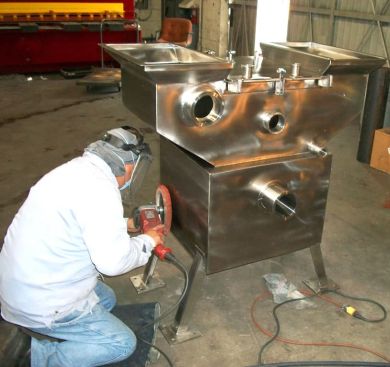 Operators benefit from the external motor drive and flex shaft arrangement of Suhner tools, as the weight carried on the job is far lighter, making the work easier with less fatigue.
A key partner in this latter department is the Abrasive Power Tool Division of Suhner, based in Rome, Georgia and part of the Swiss company, Suhner AG.
The supplier's local representative is Regional Sales Manager Gary Mergeanian, who has served Royal for over 25 years. As he observes, "Few customers present me with the daily challenges I get from Royal, but these are the moments that make doing business so rewarding. When I can bring a solution to the job at hand, whether it's a special abrasive pad or a full power tool assembly, that's exciting. Best of all, the satisfaction of the Royal welding and finishing operator teams is my goal and getting it is very important to me. To make the jobs easier and less fatiguing for these guys, while at the same time helping them produce the highest quality finish possible, is a challenge we at Suhner welcome, every day."
One of the newer Suhner developments on the job every day at Royal is the Roto family of products, where the motor drive, flex shaft and handheld adapter unit are integrated into a powerful and flexible tool package.
By separating the weight of the motor and mechanical drive components from the hand tool, plus incorporating highly flexible adapters into the handheld unit, Suhner allows the operators much greater flexibility in performing their work.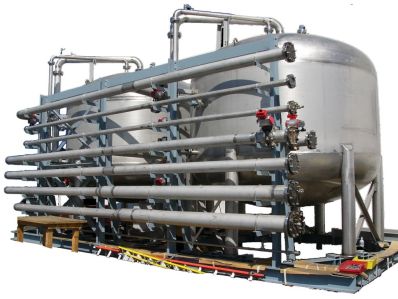 One of the fabrications made at Royal. Most of them designed, engineered, produced and fully tested at the shop.
As Wallace Cook comments, "Our operators have less fatigue and greater freedom of movement with these units, which allow long periods of work in tight spaces or inside large containment vessels. That's a real plus for the guys in the shop. And Suhner, through Gary Mergeanian, is always bringing us new and better ways to grind welds and finish surfaces on stainless and aluminum."
Belt and pad abrasive work can be done on the same tool, using the Roto family, which further speeds the work at Royal. The shop recently built its own polishing machine setup for internal tank head polishing, using a variety of Suhner components.
As further evidence of the performance his shop realizes from Suhner tools and abrasives, Cook notes he's often recommended this supplier to other companies, even some competitors, he muses.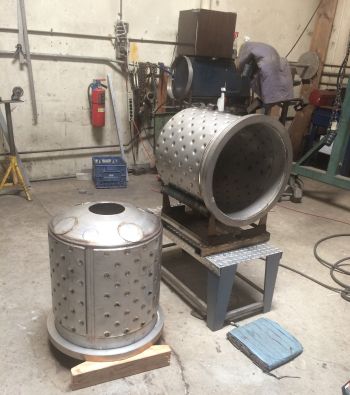 A unique feature of Royal Welding engineering is the company's dimple jacketed stainless steel design for mixing tanks and reactors. Cook says the dimple plate design is more efficient in promoting heat transfer through the tank wall.
Shop Supervisor at Royal, Ricardo Guerrero, agrees. "The tools are very good, easy to handle and the guys don't get worn out. We can do faster finishing with less abrasive and that means money saved."
Gary Mergeanian further notes, "We've taken feedback from the operators here at Royal and made specific changes in the design and manufacture of our tools in response. Since these guys are also working with stainless, high-performance aluminum alloys, heat-treated Inconel and other challenging materials, they've also provided valuable input for our abrasives engineering team at Suhner."
Want more information? Click below.