Machine Shop of the Future -- Revolutionary Approach is Greener, Faster, and More Productive
A full suite of state-of-the-art technologies from Sandvik allows customers to streamline their production activities across the entire value chain, from design and planning to preparation, machining, and evaluation.
This new approach to production will enable manufacturers to operate more efficiently, with for instance less waste and faster tooling set-up, helping them to become leaner and more productive.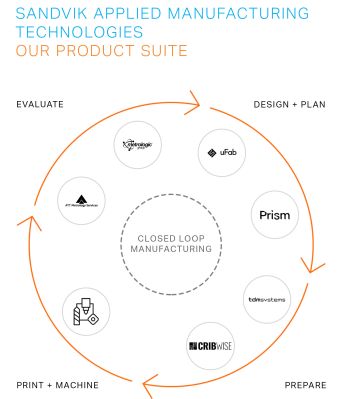 "Sandvik has a proud history as a world-class manufacturer of tools and tooling systems for industrial metal cutting, and more recently also for additive manufacturing services and supply of metal powder alloys," says Lars Bergström, President Sandvik Machining Solutions.
"Now, these capabilities are supported by a full-circle of digital tools from Sandvik, covering areas like design and planning, preparation, machining and verification. This combination means manufacturers can access a single source of production technologies and expertise, supporting their efforts to become leaner and more flexible, and to gain a competitive edge."
The expansion into digital solutions and additive manufacturing means customers can choose from a full range of metal cutting tools from Sandvik Coromant, complemented by additive technologies and services as well as digital optimization tools, meanwhile, help bring these technologies together.
At the design and planning stage, for instance, Sandvik's data management solutions can be used at the preparation stage to deliver optimized tool management across a spectrum of machines. Meanwhile, the company's Prism software enables the swift programming of 3-axis machines, delivering easy-to-learn, touch-based CNC programming for 2.5D parts which are built on proven machining "recipes" to ease and expedite the process.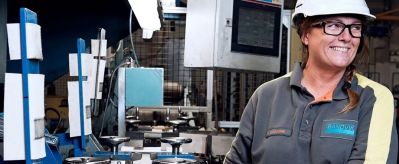 Then, Sandvik can help streamline the machining process to fit any operation, regardless of the different types and makes of equipment being used. Finally, advanced digital metrology tools can then be used for verification and evaluation, providing first-class measurement and inspection services of finished products.
"This will demonstrate what we mean by 'closing the loop' within the production cycle," says Anders Lindh, President of Sandvik Applied Manufacturing Technologies. "It is about helping our customers deploy next-generation production systems enabled by a full range of materials, machining processes and digital tools. This eco-system of technology and expertise, from a single source, helps drive business advantage. It enables our customers to become faster and leaner, and ultimately more competitive."
Want more information? Click below.