New Cobot Welding Tool Gives Smaller Shops a Low-Risk, Easy Solution to Increase Weld Capacity and Quality
The Vectis Cobot Welding Tool helps manufacturers boost productivity by reducing the learning curve, deployment time, risk, and cost of robotic welding.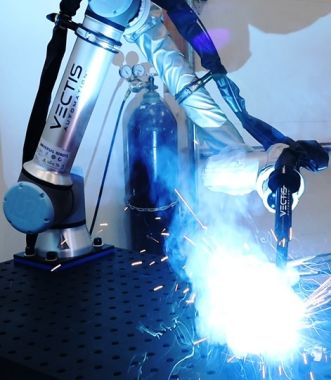 Powered by Universal Robots' UR10e collaborative robot, the Vectis Cobot Welding Tool is a portable, safe, versatile, and extremely easy-to-use solution that is even available as a low-risk, no-capital rent-to-own option.
Users of the Vectis Cobot Welding Tool are typically set up entirely by the customer within a few hours of system arrival and welding within 10 minutes of setup -- with no programming experience necessary.
Vectis' Let's Weld Together™ intuitive programming interface is accessible directly through the UR cobot's own teach pendant. Programs can be created, saved, and later recalled in order to handle the numerous part numbers typical for high mix/low volume shops.
The cobot welder can weld thick and thin parts, and the Vectis Weaving Software allows manufacturers to set weave parameters for cleanly tied-in welds with a Weld Template Library that provides parameter starting points for common weld sizes, such as one-click tack welds, square tubes with tight-radii corners, round tubes, and multi-segment paths.
"We are delighted to be selected as the cobot of choice by a welding company with founders having more than 60 years of welding automation experience under the hood," says Stu Shepherd, regional sales director of Universal Robots' North America division. "Vectis' solution meets the ongoing welding requests we receive from customers. We look forward to seeing the company's deep application expertise manifest itself in the cobot realm."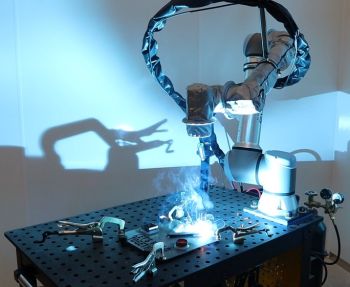 The Vectis system comes with all hardware provided fully integrated onto a 3ft x 6ft mobile modular fixturing cart enabling metal fabricators to bring the cobot to the work, or the work to the cobot with no anchoring nor dedicated footprint required. The Vectis Cobot Welding Tool does not need three-phase power but runs off a 120V wall outlet, the welder can run on anything between 208V and 575V -- including 240V single phase.
This week, FABTECH attendees are the first to experience the new cobot welder as it debuts in Universal Robots' booth.
Want more information? Click below.