New Inserts Offer Faster, More Precise, More Efficient Back Draft Milling
Dapra's new SBD series inserts were designed to help operators finish their back draft jobs faster, with greater accuracy -- and fewer insert changes -- for maximum performance in long-reach, low-pressure finish cutting.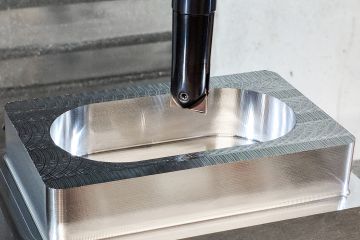 SBD inserts are the latest addition to Dapra's EDGE² SBN finishing system and are interchangeable with SBN series twin-edge Ball Nose inserts.
A positive-rake cutting wiper allows for larger stepdowns and faster feed rates than traditional back draft-style inserts. Ultra-robust carbide insert thickness provides optimum rigidity and heat control for superior tool life, and strong insert seating accepts cutting forces with minimal deflection to eliminate insert movement.
These inserts are available in .500" to 1.000" diameters.
Dapra offers a choice of two new premium coatings for SBD: TS (AlTiN-based) for general-purpose machining in most steels, irons, and 400-series stainless steel; and HM (AlCrN-based) for hardened steels, high-temperature alloys, and tough 300-series and PH stainless steels.
SBD inserts are available now.
Want more information? Click below.
Copyright © 2023 by Nelson Publishing, Inc. All rights reserved. Reproduction Prohibited.
View our terms of use and
privacy policy