The Case of the Self-Destructing End Mills
Sometimes all it takes is the right person in the right place at the right time to solve a productivity mystery. Andy Joerg, Owner of Custom Precision, went in search of a good machining detective when faced with a job that was eating up end mills at a rapid rate.
Custom Precision is a Schaumburg, Illinois-based job shop that manufactures components for the printing industry, medical device field, automated machinery and others. They do a lot of prototype work, low volume production runs and one-off components as well as larger production runs. But sometimes a part comes through the door that creates more problems than profit.
The Tool Destroyer
"We had a repeat job for a pharmaceutical component made out of 304 stainless," said owner Andy Joerg. "The run was only ten parts -- five right side and five left. The project called for a lot of material removal and it was just chewing up the carbide tools I was using. I asked everybody that knew anything about tools for suggestions -- and I even tried a few. Nothing worked."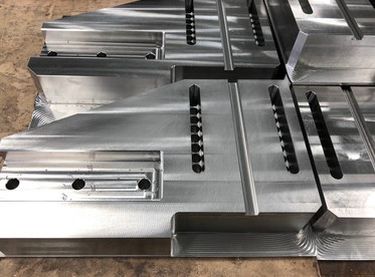 Steve Hedlund of HAIMER had some thoughts on the matter as well. But first he wanted to check with Tod Petrik, their Cutting Tool Applications Engineer, for the latest information on the topic.
Already a HAIMER Fan
Joerg's relationship with HAIMER began when he attended the Methods Machine Tools MetalStorm event in 2015. At the time, he was looking for the answer to another mystery. He had recently blown a spindle and wondered if balance could be the problem. Since his shop was so near the HAIMER home office, they recommended he drop by their Villa Park office to have his tool assembly checked.
Their team was happy to help him out. Testing showed that the tool was totally out of balance. Joerg was convinced and bought a shrink fit and balancer on the spot. Not only were his spindles safer, he began to notice an increase in tool life and reduced run out. "That's where I really got started with HAIMER," he said.
The Right Tool
When Hedlund spoke with Tod Petrik, he recommended the HAIMER Basic Mill solid carbide corner radius end mill with Safe-Lock™.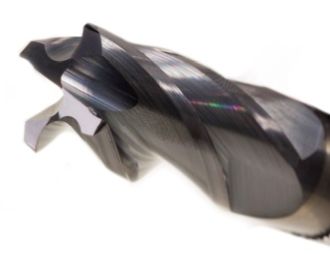 Petrik explained his choice: "Our Basic Mill solid carbide end mills can be used on almost all materials, especially for roughing and finishing. The Safe-Lock™ System overcomes micro creep in order to enhance high performance cutting. Special drive keys in the chuck and grooves of the tool shank prevent the milling cutter from spinning during extreme machining." Petrik was sure the combination would solve Joerg's problem and set up an on-site testing day.
The On-Site Test
Joerg had tried many established brands of end mills on the market with no luck. However, when Petrik brought the HAIMER Basic Mill into the shop for the first time, he was very impressed.
Testing on a Feeler HV1000 with a 15K -- 30 HP spindle, Petrik and Joerg started slow, then began to pump up the speeds and feeds (2000 RPM at 46 IPM). The competitor carbide roughing end mills Joerg had been using had a max tool life of only 2-1/2 parts (out of the total ten required) and a metal removal rate of 1.528 cubic inches per minute. In the end, just one Basic Mill was completing all ten parts at a metal removal rate of 2.444 cubic inches per minute.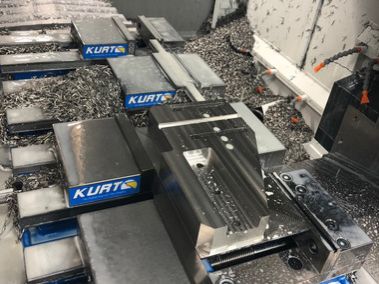 "We reduced cycle time from 1 hour 10 minutes to 46 minutes, and were even able to add more features on each part with that same Basic Mill," Joerg added. "Plus, we weren't wasting time by endlessly changing tools out."
Petrik and Joerg tried out the Basic Mill on 4140 and some other materials in the shop and it performed equally well. "In my experience, when HAIMER says they have something better, you can believe it," Joerg said. "The Basic Mill is an excellent value and I've been telling everyone I know that they should try it." In fact, Joerg ordered 50 Basic Mills immediately and now stocks the Basic Mill End Mill exclusively.
Joerg was equally sold on the Safe-Lock system. "In order to use the programming techniques available on the market that really increase metal removal rates, it was clear to us that we needed to utilize the Safe-Lock feature in order to prevent the tool from pulling out at the speeds the Basic End Mill allowed us to achieve."
The Right Partner
According to Joerg, Petrik was a great asset to the project -- well rounded and very knowledgeable. "He really opened my eyes," he said. "But it wasn't just the tool, it was his whole approach to the problem that I really appreciated."
Joerg added that Petrik is definitely an excellent resource that other machine shops should take advantage of. "He really can help your productivity if you talk with him and let him share his experiences."
Want more information? Click below.