Tool Shop Supervisor Keeps on Grinding -- Even After an 8 Hour Surgery
AB Tools (Lincoln, CA) has been manufacturing high-performance specialty cutting tools since 1977. The shop is currently experiencing its highest sales in 40 years, thanks in part to an ANCA CNC grinding machine and its software. The technology kept the operation going while the operator was home recovering from back surgery.
Since 1977, AB Tools has been a leading expert in the special cutting tools market, especially high-performance rotary cutting tools. Started by Alan and Jon Baker, they service almost every industry, from smaller shops to large facilities in aerospace, automotive, medical as well as others.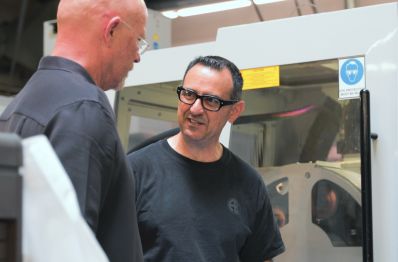 AB Tools' president Jonathon Baker (left) purchased an ANCA grinding machine at the urging of shop supervisor Alfred Lyon.
"We not only stand by our products 100 percent, but we use them in our day to day operations," said Jonathon Baker, President of AB Tools. Examples include "milling out some multi-flute carbide-tipped cutters with one of our own Dexi-Dovetail cutters, to securely holding blanks with our own Accu-Hold endmill extensions. We make a range of carbide tip cutting tools on steel blanks to increase the possible range of diameters and lengths of our products," added Baker.
At the suggestion of shop supervisor Alfred Lyon, AB Tools chose to invest in ANCA technology when Lyon became interested in how a CNC machine could help their business.
"Once we invested in an ANCA, the company significantly increased its capacity in what types of tools we could produce. Personally, I think our ANCA's offer the entire package -- they run clean, don't require a lot of maintenance and are fast to set up. Our cycle times have improved and the programming ease is night and day," said Baker.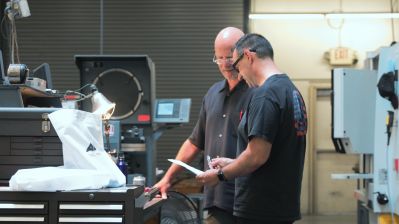 "I looked into getting an ANCA after learning I could program one of our tools in under five minutes. Previously, to make a tool it took 20 to 25 minutes to program the G-Code and another 15 to grind. That meant huge savings in time and effort," says Jonathon Baker, President of AB Tools.
Lyon, Shop Supervisor and top grinder at AB Tools, added, "Years ago it was difficult to be competitive in producing special tools due to the time and labor involved. When we invested in an ANCA machine, its grinding capabilities and flexible software meant we could now produce one-offs or two-offs faster. Furthermore, it dramatically increased the efficiency of the manufacturing process meaning we could manufacture specials at a profit. That has meant that today we are very competitive in our pricing and can service our customers with shorter lead times."
An ANCA Applications Engineer came to AB Tools for three-day training on the new machine. "I'd like to think I'm a fast learner, but in a day, I was grinding tools and by the second day, I felt like the trainer didn't need to be there. It was literally that fast," said Lyon.
Having technology that is easy to learn is especially important given the lack of skilled operators. At AB Tools, their solution to help close that skills gap is to train people who have recently finished high school and offer them a career path. In a few days, they get them operating, setting up, and then training in programming.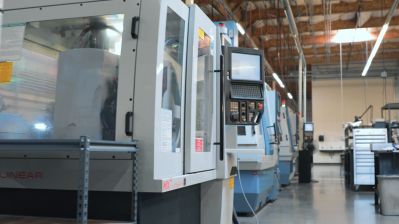 When Lyon was recovering from back surgery, he was able to take the simulator and run programs at home on his bed.
Lyon continued, "My favorite thing about the ANCA technology is the ability to program off machine. In the past, the simulation had to be done in your head and that's true of many manual cutter grinders. You have an idea of what you want, and after making the tool you hope it is produced to look like what you've been dreaming about."
ANCA's simulation software allows users to create the tool, with all the given parameters and see what the finished tool will look like. That combined with being able to program off machine has revolutionized how they make cutting tools.
"Repeatability is also important because in the past, we could make the same tool but it would never be exactly the same. The flute length would be different, cut length, relief, clearance, those things would all change slightly. With ANCA, because you can save the program, and all the features that go along with it, meaning the cutting tool has the same features every time it is ground."
"When we got our first MX7 Linear we were blown away by the finishes. I mean, the cutting edges are just beautiful. We don't polish anything," added Lyon.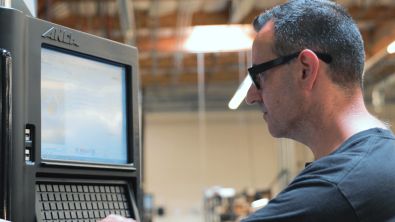 Simple to learn, and flexible to use, ANCA's technology can be learned in under three days, claims Alfred Lyon, AB Tools Shop Supervisor
Lyon recently had back surgery that knocked him out for a few months. Not liking to sit still, along with his passion for grinding, meant he wanted to come back to work as soon as he could. With the ANCA technology, he was able to take the simulator and run programs at home on his bed, enabling him to start working again while he was physically healing.
"This was important for our business as it meant we had our top grinder and all his expertise back with us much earlier than would have been possible without the simulation software," said Baker.
Lyon explained, "I had a spinal fusion that required an eight hour surgery. That night I wanted to start working again but my wife wouldn't let me while I was in the hospital. After coming home, I was immediately able to connect everything. From my bed, I was able to program jobs for the ANCA grinders in the shop -- five to fifteen jobs a day."
"I would email the programs to the shop. They were loaded onto a USB by a member of my team who would stick them in the machines and be able to just hit go."
Baker concluded, "I'm passionate about our industry. I love our industry, been in it all my life. AB Tools is always looking to the future and we hope it will include almost all CNC equipment. I say this because the achievements we realized from buying our first ANCA CNC machine are incredible."
Want more information? Click below.