New Light Tonnage Presses Perfect to Straighten Beams, Shafts, Axles, and Profiles
KAAST introduces their light tonnage workshop presses, the HPAs, to their line-up of in-stock machines.
These general-purpose workshop straightening presses come in 30 to 150 ton press power and are perfect for many repair and assembly jobs, including the straightening of beams, shafts, axles and profiles. They can also be used to remove and replace bearings, pins and bushings. The HPAs are also frequently installed to run load tests on materials and weld joints.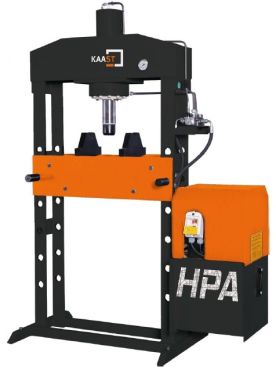 The H-Frames of the presses are steel welded and come with adjustable table heights. These presses are simple to operate with their joystick control. Two V-blocks are included with each machine to assist with straightening and or positioning material. With working space of 30-62", the HPA presses can be sized to fit the space requirements of most shop floors.
The manometer allows the operator to monitor the pressure on an easy to read analog dial. Optional accessories of the HPA presses include a foot pedal or two-hand operation, NC control, or a movable cylinder.
Want more information? Click below.
Copyright © 2023 by Nelson Publishing, Inc. All rights reserved. Reproduction Prohibited.
View our terms of use and
privacy policy