Spray Nozzle Makes It Easy to Coat, Lubricate, Cool or Paint
EXAIR's new 1/8 NPT siphon fed spray nozzles atomize fluids in a range of spray patterns for a wide variety of uses.
These are EXAIR's smallest air atomizing nozzles and are suitable for tight spaces. Siphon fed atomizing nozzles require no liquid pressure and can be used with gravity fed liquids or lift liquids from a siphon height as much as 36 inches (91cm). They combine liquid and compressed air to create a mist of atomized liquid that can be easily adjusted to meet the needs of your application.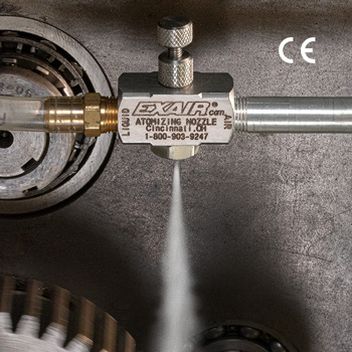 With EXAIR's siphon fed atomizing nozzles, you can coat, lubricate, cool, treat and paint a variety of products using compressed air and liquids with a viscosity of up to 200 centipoise. Used with water, atomizing nozzles are an efficient way to evenly cool hot items in your automated process.
The stainless-steel construction of these atomizing nozzles adds to their durability and corrosion resistance. EXAIR atomizing nozzles are available in a variety of flow patterns and rates to meet your needs. Models for pressurized liquids, internal mix, external mix, 1/4 and 1/2 NPT atomizing nozzles are also available. Patented No Drip versions to conserve valuable liquids and improve product finishes round out the complete product line. All models are CE compliant, adjustable and come with our 5 year Built to Last Warranty.
Want more information? Click below.
Copyright © 2023 by Nelson Publishing, Inc. All rights reserved. Reproduction Prohibited.
View our terms of use and
privacy policy