Lifelong Cutting Tool Specialist Reveals His Keys to Building and Maintaining a Successful Manufacturing Business
Jeremy Bunting, Managing Director of Facet Precision Tool grew up in the cutting tool industry, getting a hands-on education from a young age and then using his experience to start his own business. From laying out a brand-new manufacturing center; to shaping and promoting Facet's reputation; to training a high-performing team that is passionate about the craft of cutting tools -- Jeremy tells us in his own words how he built the foundation for success.
I started designing my first tools at age 14 in America as part of the family business, using manual grinding as well as conventional grinding to manufacture tools. After that I moved on to the applications side -- getting exposure to feeds and speeds and eventually moved to Europe. In Europe, I worked for different tooling manufacturers, seeing different approaches to manufacturing and precision tooling.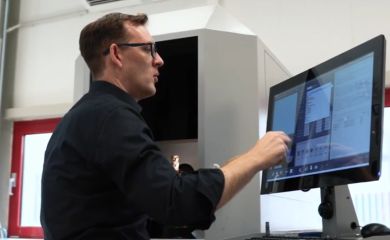 Jeremy Bunting, Managing Director, has seen Facet Precision Tool double its sales over the last year.
I started Facet Precision Tools in 2015 primarily to service the aerospace and automotive sectors. Both of these markets require special tools with distinct needs. At Facet we produce PCD, carbide cutting and coated carbide tools through distributors and direct to customers. Based in Germany, we sell locally as well as to France, England and Spain. Through distributors, we service Africa, Sweden, Turkey, Hungary, Austria, Italy and Mexico.
It's challenging starting a new business. We had products in mind and we were in a unique position to decide our target markets -- as well as what machinery and equipment do we need? When we entered the market, I wanted to have high quality equipment, robust manufacturing processes and be producing market leading cutting tools.
Since opening, we have been growing steadily, in fact, last year we doubled our sales. As we expand, we are looking at how we can attract more customers and consider whether we need to add additional products or people with industry experience. We are always looking for good people.
Establishing Grinding Capabilities
After deciding on a shop floor blue print, we invested in a range of ANCA machines with two MX7 Linear's, an FX7 and an EDGe as well as other equipment.
We use the MX7s primarily for automotive tooling as they work well when grinding tools with larger diameters of 20, 25 and 32. We also run a lot of pocket grinding for PCD cutting tools on this model. The MX7 has a lot of horsepower that allows us to grind these tools in a very stable way. We use the FX for high volume carbide tooling. As an extremely rigid and thermally dynamic, stable machine I can rely on it to grind highly repeatable cutting tools.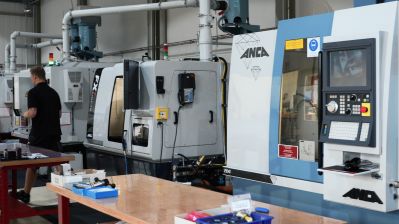 Facet purchased a range of ANCA machines that were ideal for grinding specialty tools.
On the MX7 we have an ANCA spindle speeder that allows us to achieve higher rpm. We worked with ANCA to adjust the software to be able to provide a better stable pocket and a more accurate pocket in our grinding process.
On the EDGe we manufacture PCD tools. In the past couple years, we have been developing PCD vein tools with our own blanks and cutting tool designs -- working through and refining our processes. The EDGe has allowed us to have a high degree of accuracy when trying to grind a lot of the geometries. I found that as a process, erosion enabled the repeatability and the quality we were looking for.
We also added a vision camera system on the EDGe, allowing for a quick inspection inside the machine, to get higher repeatability and better quality versus taking it out of the machine, and putting it back in.
And then there is ANCA's 3D Cimulator program. Up to 95 percent of the designs and problem solving are done on the simulator; testing the grinding process, reviewing and modifying before you go into a machine. It is our strongest tool to increase efficiency and reduce waste and that is a major help to our profitability. For example, carbide is extremely expensive when you can be paying from 400 euros for a 32mm standard rod.
The simulator also shows estimated grinding times which has been a great tool for us to reduce cycle times. Last time it took us, for example, 20 minutes to make this tool, but after considering a new idea or different approach we can reduce that time to 18, 17 or even 15 minutes all through experimenting in a simulated grinding environment.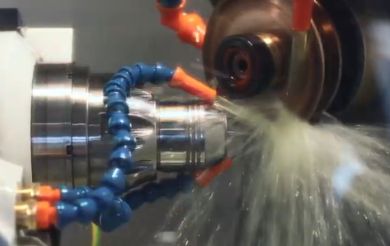 The EDGe machines has provided a high degree of accuracy when grinding a lot of unique geometries.
We have touch probes on all the machines that allow us to easily change wheel packs, qualify the wheel and start moving quickly. It also allows us to remove human error and ensures a higher finished quality. To be able to dress and probe the wheel, picking back up where you left off without having to change the setup is very advantageous.
One of the main reasons we love the ANCA machines is because of the software. We have found it to be extremely flexible and at Facet we don't use a lot of the standard ANCA programs and designs and instead do a lot of our work in profile editor, changing angles and profiles to meet the tool designs that we need. My Dad always said that ANCA was a software company that built a machine.
A Relationship Business that Requires Communication and Trust
As we build our company we want to be known for quality. From the start we have been trying to build our reputation for offering high quality tools rather than just entering a market and throwing anything out there and seeing what sticks. We are methodical in our approach to manufacturing certain tools or entering a marketplace or approaching certain things. Even if this means we are a bit slower and more tactful.
Just as important, is our responsiveness to the customer through deliveries and application support. These are the foundation of our company. We start by listening -- what does the customer want to achieve, am I understanding their needs correctly? Then I consider how the product could be improved, can we make other recommendations. We turn that request into a tool design that is checked by the customer.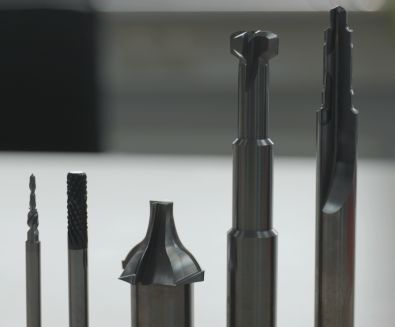 The team at Facet is focused on the quality of the tool first and productivity second.
In aerospace, a common misunderstanding is the need for standard tools. Tools for aerospace require different lengths, diameters and applications. There is also a high requirement for accuracy, in Europe for example, we find aerospace has applications that need to be measured to a couple of microns and use a variety of methodology to make holes in different materials. It is a challenge making a product that meets quality standards while working across a range of material applications.
Building a Team of Craftspeople
I think working in specialty tools excites an element of craftsmanship. Every day is different, and you can take pride in your work. That is why we look for a person who is flexible, shows an ability to learn, grow, and absorb information.
I train everybody in my plant like they've never seen a grinding machine before. We invest time to build their knowledge base to understanding the manufacturing and measuring equipment. Again, partially because we're into specials where every tool design is different, we don't have pre-written programs.
I think one of the best characteristics of a toolmaker is an attention to detail. Often people can become over invested in the productivity side -- how many parts can I get through, how fast can I get them through the line. I train my team to be focused on the quality of the tool first and productivity second. And to meet these expectations of quality you have to have a high attention to detail.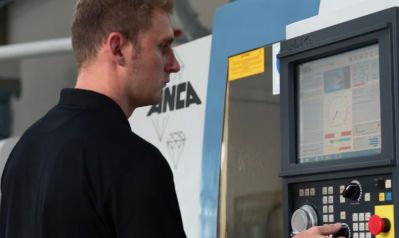 Bunting trains everybody in his plant like they've never seen a grinding machine before.
Just as important is to develop your team to have a passion for grinding. The more passion someone has for the product, the more likely they are to stay. Teaching your employee how to make a better-quality tool feeds their creativity and teaches them it is ok to have your own approach and style. At Facet we have an open dialogue with our teams of why we do the things that we do.
I think there will always be a need for niche and special products and that means more special cutting tools. That's one of the reasons why we were very comfortable moving into this industry. So as materials change -- if it's more glass, carbon composites or aluminum -- we're in a good position to move with the market and respond to those changes.
I have established the foundations of Facet Precision Tools to be agile with design expertise, workforce skills and manufacturing capabilities. We can and do adapt and invest in the machinery or develop our knowledge so we can meet the markets' changing needs rather than focusing on materials.
Want more information? Click below.