A Holiday Message from the Editor

A year ago, I began this message: "2020……it's almost over."

Will it help with climate change if I recycle the same message? Just kidding. But it's safe to say, a lot of us will be glad to put 2021 in the rear-view mirror as well.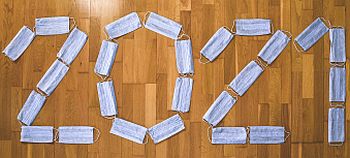 As this year comes to an end, many folks are still dealing with the same pandemic issues -- along with some new issues that emerged over the last 12 months -- including a vaccine mandate.
As we head into 2022, companies with 100 or more employees are deciding how best to handle a federal mandate -- if it is ever actually implemented. That's certainly the case for many manufacturers in our machine tool/metalworking industry. Our hope is that whatever decisions are made, no more employees will lose their job or livelihood.
In addition to never-ending pandemic issues, manufacturers will also need to deal with the rising energy costs, increasing inflation and the ongoing supply chain problems. As many began the process this year, they'll need to continue to improve their agility and re-assess the viability of their supply chains to cope with a similar crisis in the future.
But maybe more critical than that, manufacturers will need to continue their efforts to address the lack of skilled workers. Sadly, our country continues to have a high number of job openings and a high number of unemployed -- at the same time.
But wait! This is becoming a truly depressing HOLIDAY message. It's not all doom and gloom!
Smart Factory initiatives are more and more prevalent and can now be found not just in the large plants but even in some of the smallest job shops. Additive Manufacturing/3D Printing, Robotic Automation, Digital Manufacturing, and Artificial Intelligence remain at the forefront of innovation.
Despite cancellations and lockdowns still happening in some parts the country, trade shows returned in 2021 and will likely be back in full force in 2022 with the highlight being the return of IMTS in September.
And, as always, Nelson Publishing will be here to cover IMTS and everything else happening in our industry. Our eNewsletters -- Tooling & Production (T&P), Modern Applications News (MAN), and the Manufacturing Center Product Spotlight will continue to bring you the very latest news, product announcements, and success stories from the metalworking world. MAN begins its 55th year in January while T&P embarks on its 87th year of serving the machine tool industry!
The staff at Modern Applications News would like to send our best wishes and prayers to all of you who have persevered through another tough year. We hope that your spirit is renewed with a Merry Christmas, a Happy Hanukkah, or a Happy New Year celebration! Our wish is that you're able to find joy while spending quality time with your family and loved ones over the holidays.

We have continued our tradition of putting together our "Best of" issue. We have compiled two lists from 2021 -- the Top 10 Most Read Features and Top 10 Most Read Product Spotlights -- as judged by our readers. We hope you enjoy these stories and catch some helpful information you may have missed the first time around. Again, we want to thank you for your loyalty to our publications and we'd like to wish you a safe, successful, and prosperous 2022!

Happy Holidays!
Bob West
Associate Publisher/Managing Editor MAN/T&P